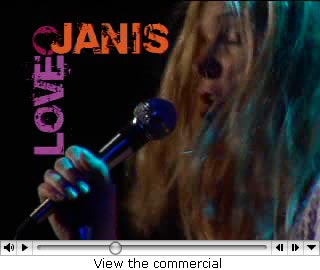 Cathy made her legit stage debut starring in the singing role of Janis Joplin in the musical Love, Janis. The play, conceived by the Joplin estate, is centered around letters that Janis wrote to her family during her meteoric rise to fame through her sudden, tragic death. The letters are performed theatrically by a speaking Janis and 19 or so of Joplin's classic tunes are rocked out live by a singing Janis and band. Cathy played Janis in Chicago, Sag Harbor, New York, the original Off Broadway cast at the Village Theatre in New York City and, most recently, at the Marines Memorial Theatre in San Francisco. This Spring, she'll join the production at Arizona Theatre Company for performances in Tucson and Phoenix. Due to the vocal demands of the role, two singers will rotate in the eight performances per week schedule. Please check with the theater.
Robert Hurwitt of the SF Chronicle said, "when Richardson pours her magnificent, flexible voice into one of Joplin's signature numbers - the experience is more like hearing Janis live than any recording ever captured."
Pat Craig of the Contra Costa Times wrote, "Richardson goes a long way to re-create (Joplin) with some astounding replications of the singer's work. There are times when you can close your eyes and swear you are listening to the real thing."
And Dennis Harvey, theater critic for Variety said, "Cathy Richardson delivers impressive musical pyrotechnics in the Joplin style . . . the main attraction is her vocal instrument, which (by adding considerable grit to her own singing style) duly reproduces some of the hair-raising intensity Joplin delivered."
Check out the preview in the Arizona Daily Star.
Listen to the interview on KUAZ with Cath, Joel and Lisa Otey of Love, Janis (Includes live performances of "Me and Bobby McGee." and others)!
---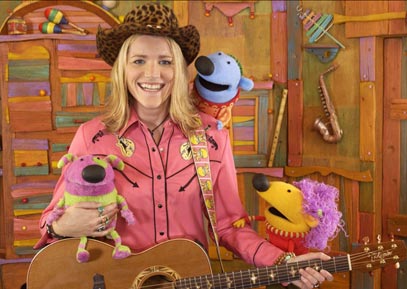 This Fall, Cathy made her national television debut on Jack's Big Music Show, Noggin's new music series for preschoolers. Jack, his best friend Mary and dog Mel, hang out in a musical clubhouse where they play music with their band and have various musical adventures. Cathy plays "Cathy," the singing and guitar slinging rocker-next-door, who stops by to jam on four of the season's thirteen episodes. She also plays the ever-annoying voice of Jack's mom, heard at the beginning and end of each episode. CRB member Anne Harris also makes a guest appearance as Prudence, the Musical Genie. Says Cathy of the show, "This is a strange manifestation of a childhood dream come true when I would pray to God to make me tiny so I could go into the tv and hang out with the Muppets! This show is so well done, intelligent, funny, and it teaches kids about music and exposes them to different genres and artists, what's not to love? I am honored to be part of it." Noggin is a commercial-free subsidiary of Nickelodeon and only available as a premium cable channel. Jack's first episode was the highest rated debut in Noggin history.
Watch for Cathy in these Episodes:
Mel Gets His Groove Back
Marching Band
Daddio Flower
Mel's Superswell Dance Party
---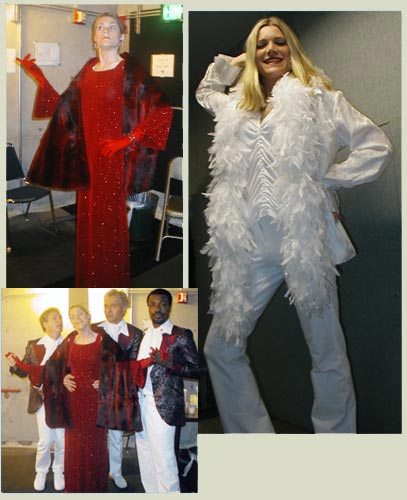 In the summer of 2002, Cathy was cast in a developing musical, the Education of Randy Newman, which ran at Seattle's A.C.T. Theatre from September- December of 2002. The show was compiled of tunes penned by songwriting giant, Randy Newman, woven together to create a story loosely based on his life. An ensemble cast of six surrounded the central character, in a Greek chorus sort of way, playing the various people in different stages of his life or the characters in his songs. The entire text of the show was sung and Mr. Newman wrote several pieces just for the show. "Those were some of my favorite moments," says Cath. "Since the show was mostly made up of existing songs that weren't necesarily intended to work together and also because the only way for the actors to converse was through singing... You couldn't just make every song a duet so he created these little arias that were very operatic and also ingeniously funny." There was also a heavy dose of choreography in the show, including a big production number where Cathy sang "Better Off Dead" in a red sequened full length gown and stilletto heels, while a chorus of waiters dipped and twirled and tangoed her all over the stage. "That was indeed the most terrifing part of the gig and the whole reason I wanted to do it!" Big laughs were the pay-off for Cathy, who has been described by friends as "a singer who thinks she's a comedian."